When:
Start: Friday night 6-ish (Oct. 12, 2001)
End: Sunday night (Oct. 14, 2001)
Where:
Steele-Away Manor (Rancho Mirage)
Entry Fee:
Money for food and to pay for the cleaning person (cleaning service should be around $25 bucks/person). There is a slight chance we will have to pay a guest court fee, but I've never had to pay it before.
What To Bring:
4 cans of balls, money, bathing suit, cool dvds, your 3 favorite cds of all time, frisbee (for golf), sleeping bag, sun tan lotion, collared shirts (can't play without them), wood racquet (grass court), one all-white outfit (grass court), golf clubs to sneak on the course???...
Related Links:
The guy to beat: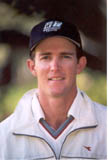 The Players:
Tim Thurman / no more
Prizes:
First Place: Westmont Open Trophy
Second - Sixth Place: ZIP! ZILCH!
Address/Directions:
Rancho Mirage, CA 92270
760-770-5764 (house phone)
619-944-8052 (Steve's cell phone)
760-321-9667 (guard gate/office)
760-328-5800 (tennis center)
- 10 East
- Exit Ramon Road / Bob Hope Drive
- Right On Ramon Road
- Left On Bob Hope Drive (pass casino)
- Right On Dinah Shore Drive
- Left At Mission Hills (Not Westin) Guard Gate (give guard your name)
- After Gate Make Hard Right
- Go Under Road To Next Gate (gate should be open)
- Right On Loch Lomond
- Go 1-2 miles...234 Loch Lomond On Left
Click the picture to see the backyard of Steele-Away Manor: